About our Company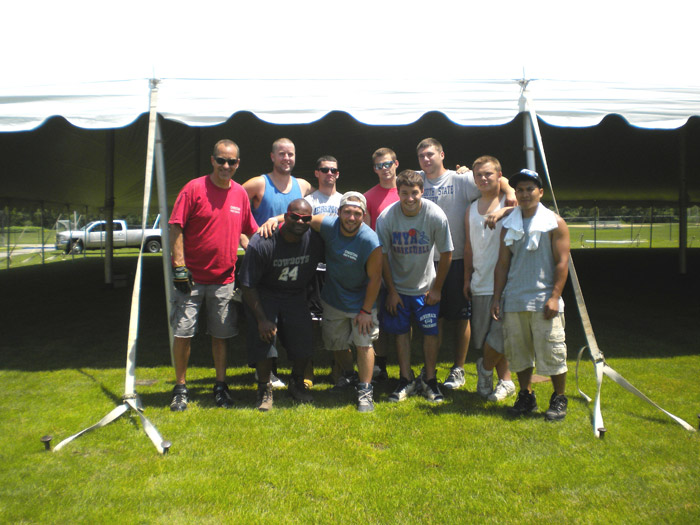 Christian Party Rental has been a family owned business for 75 years and has grown from a small local company to a regional industry leader. Since 1980, the Gould family has continued Arthur Christian's vision of building the most reputable party rental and supply service in New England. Our owners, the Gould family, and their Team "In-Tents" have always been extremely committed to growth and innovation. CPR has completely embraced industry style changes and technological improvements which give their customers the newest and best that money can buy. Incorporate that with its veteran staff's combined 200+ years of loyal service and its commitment to customer relationships, and you can understand why so many customers have trusted their event to Christian Party Rental. The company's mission of providing the "best experience in tents" means that no matter the scope or size of your event, they will be by your side from start to finish.
Events
Need to plan a graduation ceremony or giant corporate outing? Christian Party Rental's Team "In-Tents" can do it. Planning a wedding or party for 50 of your closest friends? The CPR team can do that too. Inside or Outside? Under a tent or open-air? Need thousands of chairs or do you need just a few? No matter the scope or size of your special event, Christian Party Rental is your partner for its success.
Throughout New England, Christian Party Rental has earned an excellent reputation in the party rental industry. Our office staff is always ready to help you plan your function. Thanks to tools such as PartyCAD design software combined with the staff's many years of experience, you can un-complicate the logistical planning which frees you to focus on the FUN. When it's time to set-up for your event, our skilled field installers will work with you every step of the way until you are satisfied. CPR's Team "In-Tents" takes great pride in its degree of professionalism, quality of service, and condition of its products. We have been very fortunate to build long lasting relationships with many customers who collaborate with us year after year.
Products
Christian Party Rental has one of the largest party rental inventories in the United States. Whether your event requires a 100 ft by 300 ft giant white twin pole tent to accommodate thousands of people or just needs a 20 ft by 20 ft canopy for 30 of your best buddies, CPR has it! Take a peek at our product listing for complete inventory.
Christian Party Rental takes a great deal of pride in its high quality party supplies. Along with year-round upkeep of our current rental stock, we annually invest over $200,000 to purchase new equipment. However, because our customers are our priority, we have not made any price changes in these tough economic times. Christian Party Rental knows your first-class overall experience is our best promotional tool.