Rental Policies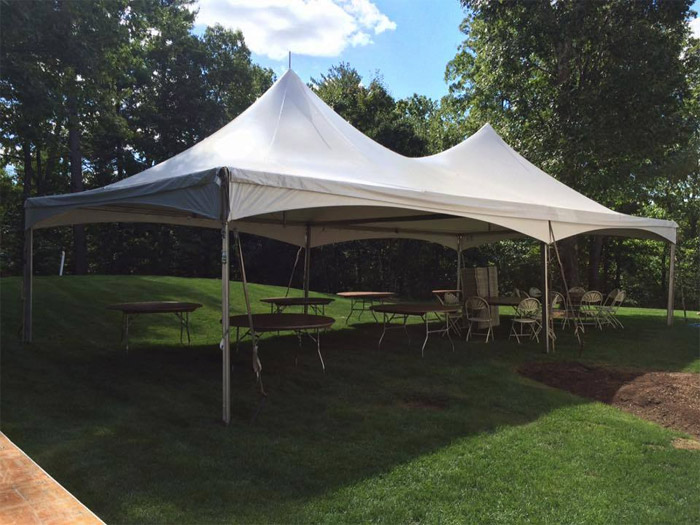 *Item availability is based on a first come, first serve basis*
General Information
Terms and Payment: All orders are on a Collect On Delivery (COD) basis unless previous arrangements have been made for payment terms. We accept cash, personal checks, business checks, and all major credit cards.  Credit card payments must be made with a customer service representative over the phone in advance. We reserve the right to charge an additional 3% fee for larger Credit Card payments and deposits. We reserve the right to require a bank certified or cashier's check. A $30 fee will apply for any returned checks. All tent reservations require a 50% non-refundable deposit. In addition, we reserve the right to require a deposit on other orders as well. 
Cancellation Policy:  All deposits are nonrefundable. If a reservation is cancelled 60 days prior to the function date, a credit letter will be issued in the amount of the deposit received. This credit letter can be used within one year from the date the letter is issued. Any cancellation less than 60 days prior to the function will result in the loss of the deposit.
Delivery: Typical delivery/ pickup hours are Monday thru Friday 7:00 am - 3:00 pm. During busy season, hours of operation are extended as necessary. Additional delivery charges may apply for orders requiring delivery/pickup before or after our typical hours of operation noted above. We cannot guarantee a specific delivery/ pickup time. The best way to find out when your order is scheduled for delivery is to call between 12:00-4:00 the Tuesday/ Wednesday before the function date indicated on your contract and ask for our dispatcher. For a weekend event, we may deliver as early as Wednesday. If you are scheduled for a Friday delivery, we may call you at the beginning of the week and move the delivery day up a day or two according to our workload. Pickups that are scheduled for Monday may be pushed back to a later day for reasons of poor weather or other scheduling issues. Your flexibility is greatly appreciated. Keep in mind that the safety of all equipment is the customer's responsibility from the time of delivery to the time of pickup.
Set Up: The prices of tents, dance floors, staging, and lighting include installation. All other equipment is dropped off in stacks.  Set up and break down service for chairs & tables is available at an additional fee. If you set up the equipment, it is also your responsibility to break it down into stacks as it was delivered. 
Staging and Flooring: When choosing a location for a stage or dance floor, the most level area should be selected. Our dance floor, plastic flooring and carpet will lie flat on the land and cannot be leveled. There is only minimal leveling ability with our BILJAX staging. Please note that steps & stage skirting are priced separately and are not included in the stage prices. 
Linens: As a service to our customers, we offer the rental of top-quality linens and napkins in a variety of solid colors and sizes. To reserve linens, you must give at least a 10 business day notice, as we sublease from a company out of state. In addition, linens must be prepaid, before the order is placed. Last minute additions to linen orders may be possible but they are costly. In the event of a linen cancellation, the rental fee will be refunded only if we are able to cancel the order before the linen company ships out to our place of business. All linens must be returned in the original packaging free from any burns, tears, or abrasions. The customer is responsible for the replacement cost of any missing or damaged items.
Heaters: We rent tent heaters during colder times of year. Our tent heaters require a dedicated 20 amp circuit of electricity within 50 feet of the heater. The customer is responsible for power distribution to the heater. Some communities require heater permits and a fire detail for heaters. If this is the case it is customer's responsibility. When heating a tent keep in mind that it is not an insulated structure and heat loss is a large factor. The tent must be sided to retain the heat. You will not be reimbursed for unused fuel for the heater.
Tent/Canopy Information
Sidewalls: Tent prices do not include sides. Sides can, however, be added to any tent for an additional fee. Sides come in 3 choices (Window, Solid or Mesh). They are available in 20' & 40' lengths and are priced per linear foot.  It is strongly recommended that reservations for tents in the colder months (May, September, October) include sides, as availability is limited for last minute add-ons. Plan ahead! If you are unsure as to whether you will want to use the sides, our tent installers can instruct you on how to remove and install the sides. Please note that if sides are included on your order and delivered to you, you are responsible for the rental fee whether you actually use them.
Staking and Installation: All Pole tents must be staked into the ground, no exceptions. Frame tents can be installed with minimal staking and may also be secured with weighted ballasts (available at an additional fee). If we are to stake into asphalt, please let us know in advance so we may bring the proper equipment. An additional fee will apply to patch the holes created by the stakes. If severe weather is predicted, we reserve the right to refuse to install a frame tent without stakes. Know what is underground before we arrive. We are not responsible for any underground utilities, sprinkler systems, septic systems, electrical, rocks etc. Keep in mind that overhead clearance (i.e. electrical wires, tree branches, etc.) is also necessary. Please note that a frame tent can fit in almost the same size area as the dimensions of the tent. A pole tent, however, needs an additional 8 - 12 feet on each side for staking. (E.g. A 20' x 30' pole tent needs a 30' x 40' space to install properly.) Site surveys are available for large orders.
Condensation: During certain times of the year and under certain weather conditions, a tent may collect water on the inside. This is common in the fall and spring.  Heating a tent may also promote some condensation. The best advice is to wait until the last minute to put your linens or covers on the tables.
Lighting: Our tent lighting is designed to provide you with appropriate lighting based on your type of event. Our installers will get the male end of all lighting cords to the edge of the tent. You may rent or provide your own extension cords to the plug-in location. Depending on what you choose for lighting you may need multiple plugs in areas. Be prepared to run a separate cord to each lighting fixture. The power supply is the customer's responsibility. In some cases, 20-amp circuits may not be enough for all lighting.
Tent Permits: Every community has different permit requirements. It is the customer's responsibility to research and obtain any permits necessary. If a copy of the flame resistance certificate is needed, please contact us and we will fax it you at no cost. If you need our assistance in acquiring a tent permit, we will pass on all fees and expenses to you.  If you have any questions, please contact your city/town offices or us.